Discounts & Special Promotions
Save Up to 70% Off ~ Savings Applied in Cart
END OF SUMMER SALE + SAVE UP TO AN ADDITIONAL 25% DISCOUNT
applied at checkout. No Code Needed.
PATIO FURNITURE SALE & Discounts
Up to 70% Off ~ SAVINGS APPLIED IN CART
End Of Summer Sale & Discount Until September 26th, 2023.

SAVE UP TO 45% + ADDITIONAL 25% OFF Lovett Black Wicker, 20% Lovett Vive, or 15% Adorna (applied at checkout)
AND MANY MORE DISCOUNTS... Sale Ends September 26th, 2023

Call 1-855-533-0303 or come by our Shop to inquire, and SAVE up to an Additional 25% off Sale Prices 🙌
Additional Savings on our Floor Model furniture, and In-Store Accessories & Décor.

*End Of Summer Sale 15%, 20% & 25% Discount cannot be combined with any other offer and is "While Inventory Lasts". End Of Summer Sale Discount 15%, 20% & 25% is limited to in stock furniture items including Sectionals, Individual Seating, Side Tables, Coffee Tables, Planters, Loungers, and Dining Seating. All Sale purchases cannot be combined with other offers, refunded or exchanged. **End Of Summer Sale & Discount Excludes Gift Cards, Deliveries, and all Sold Out items.
We believe buying Patio Furniture should leave you happy & feeling good ヽ(ヅ)ノ
Create lasting memories with your loved ones. While supporting local, and leaving more money in your pocket.
The best quality & care, at the most affordable prices, thats the WickerPark® promise.
Timeless Design
A variety of furniture options, modular designs, and our team of design experts ready to guide you through a vast array of fabric choices to help you select the perfect pieces for your unique style and space.
Premium Quality
High grade materials, such as sustainably sourced aluminum, recycled plastics, and weather-resistant fabrics, to ensure durability and longevity.
Customer Care
Don't settle for subpar warranty and customer service from other outdoor furniture companies. Our furniture is backed by the best warranty and customer service in the industry.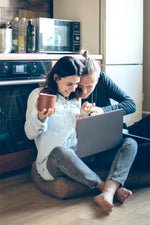 How to Budget your Outdoor Patio Space
Upgrading your patio space doesn't have to cost an arm and a leg. You can use inexpensive design and project tricks to create your dream space even on a tight budget.
Decide the purpose of the patio space. Do you want a dining area, seating, barbeque, partying or reading area? This decision will help carry on with your plans to upgrade your patio space.

Just how much size do you have at your disposal? - The outlook of your outdoor patio space will depend on the space available. While even small spaces can be transformed into patio spaces, you will need different items depending on the measurements. Once you figure this out, you can narrow it down to specific furniture pieces and also get to figure the costs.

Sales! - Be on the lookout for discount patio furniture. These can save you lots of money while also getting value for your purchases. If you plan on upgrading your patio space at some point during the year, save and plan your purchases around annual sales.